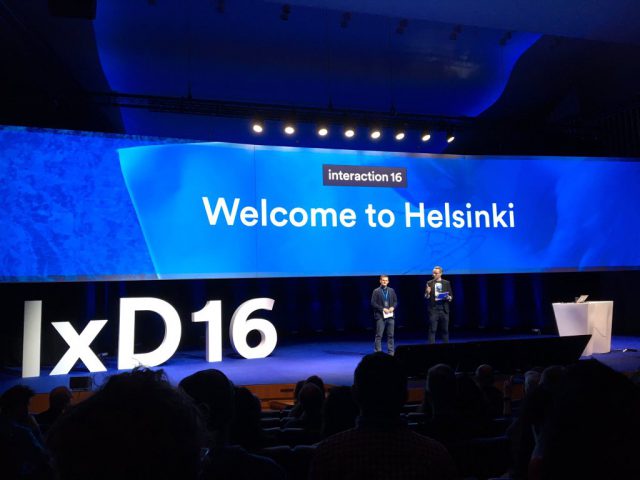 Interaction 16 kickoff. (Photo by MJ Broadbent)
Headed back from co-chairing Interaction 16 in Helsinki, my head is still spinning with all the conversations, talks and experiences of the last week.
The UX community is great: Welcoming, inclusive, interested in a huge range of topics. It was like being adopted by a whole new family.
Ever since Sami Niemelä invited me to co-chair this gathering, one thing I've been particularly interested in was to see how the more emerging tech-focused topics we included in the program would resonate with this design-focused community.
Interaction design meets emerging technology
The people in the room are the ones who will be designing large parts of the interactions with emerging tech, including robotics, algorithms, conversational interfaces, Internet of Things (IoT), connected homes… This has wide-reaching consequences. And with this power comes huge responsibility.
I'm happy to report that this mix of topics and tribes couldn't have been more productive or well-received. For example, a whole lot of speakers and participants from ThingsCon were present. And these tribes got along just great.
To me building these bridges is a top priority. All too often the conversations around tech and design happen in their silos, separated from one another through personal networks, reading lists, budget allocation, different language. Yet technologists and designers have lots to talk about, and lots to win through collaboration.
Some personal highlights that showed me that there's huge potential and interest in this cross-fermantation:
These are just a few brief examples: There were many more talks and workshops that explored the intersections of tech & design. More importantly, in breaks, on hallways, during dinners and parties there were more conversations around these topics than I could list here. It was mind-blowing, and fills me with hope that we're headed into an era of smart, responsible, delightful application of tech for good.
It'll take me a few weeks to catch up to all the talks on video, and I can't wait to get started. (The videos will be available on the Interaction 16 site soon.)
For now, I want to thank the whole IXD16 team for all the fantastic work as well as the great fun and ease this whole huge thing came together: Sami Niemelä, Otto Virta, Liisa Benmergui, Jonna Rantanen, Ville Tikkanen, Jane Vita, Maria Lumiaho, Harri Kilpiö, Antti Onttonen, Niko Pettersen, Vesa Härkönen, Joonas Jahkola, Jukka Koops, and of course Brenda Sanderson & Danielle Malik.
Kiitos! Image by IxDA.
Kiitos to all the participants and speakers! Kiitos Team Helsinki! Kiitos Finland!
ps. Photos over on the IxDA Flickr, Instagram and some of my own also at Flickr (more to come soon).