I frequently contribute to conferences as a speaker or panelist, and occasionally as a conference chair or program director. I like to explore topics around the impact of emerging technology (like Internet of Things or artificial intelligence), and what happens at the intersection of tech and society. In 2020, a strong focus is on trustable technology, how policy and the state can help guide technology in the interest of society, and concretely things like the intersection of smart cities and policy.
If you'd like to book me as a speaker for your in-house event, please get in touch.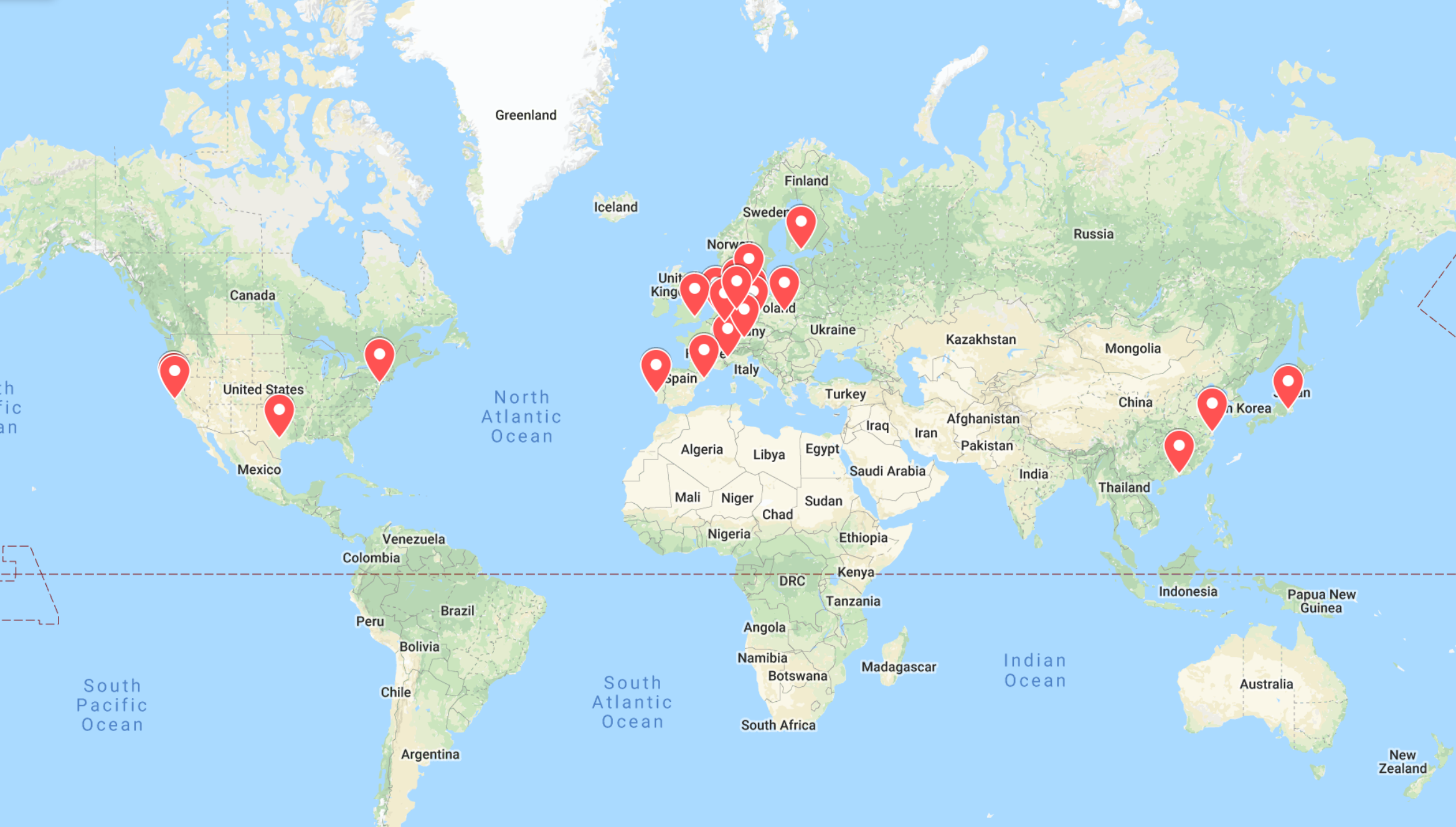 ThingsCon Berlin Berlin (chair) · Interaction16 Helsinki (co-chair) · NEXT Berlin & Hamburg (program director) · Cognitive Cities Conference Berlin (co-chair) · ThingsCon Amsterdam Amsterdam · Mozilla Festival London · O'Reilly Solid San Francisco · Foo Camp Sebastopol · PICNIC Amsterdam · OpenIOT Assembly London · V&A Friday Late London · Bits&Commons Warsaw · Retune Festival Berlin · TechCare Copenhagen · Berlin@Tokyo Tokyo · German-Japanese Young Leaders Forum Berlin · Transatlantic Digital Debates Berlin · DevOpsCon Berlin · Das ist Netzpolitik Berlin · Webby Awards Berlin · CeBIT Hannover · Global Media Forum Bonn · Digitaler Salon Berlin · Underexposed Berlin · Dresden Future Space Dresden · New School New York City · SXSW Austin · ThingsCon Shenzhen Shenzhen · and others.
Below, an overview of past and upcoming public presentations.
Upcoming talks
Past talks
2023
Mercator Talk: Brandbeschleuniger Digitalisierung? Weichen für eine klimagerechte Digitalisierung stellen. (Video. Moderator. Berlin, 6 Feb 2023)
2021
2020
ThingsCon Festival (December 2020)
Umeå Institute of Design (7 October 2020)
NGI Policy Summit 2020 (Amsterdam, 28 September 2020)
Allianz für Zusammenhalt: Digitales Fachgespräch "Wie gelingt eine demokratische Digitalisierung?" (virtual, 8 September 2020)
2019
ThingsCon Conference: Closing remarks. (Rotterdam, 12-13 December 2019)
Körber Stiftung & Open Knowledge Foundation: Forum Offene Stadt, Abschlusspanel "Zukunftsstädte: offen, inklusiv und datensouverän?!" (Hamburg, 8 Nov 2019)
FES: Digital Capitalism: Smart city, stupid citizen? Digital sovereignty and public services (Berlin, 29-30 October 2019)
NEXT: Better urban metrics for smart cities (Hamburg, 19 September 2019)
ThingsCon Salon Berlin: Public Interest Tech (Host, 5 September 2019)
FES: Sicherheit, Selbstbestimmung, Fairness, Teilhabe – Handlungsempfehlungen für eine Verbraucherpolitik im digitalen Wandel (Berlin, 2 September 2019)
Cybersicherheitspolitik in Deutschland 2019, Stiftung Neue Verantwortung, Berlin (19 June 2019)
Call to Europe VIII: Time for Progress, Foundation of European Progressive Studies, Brussels (13-14 June 2019)
ThingsCon Unconf, Berlin (24 May 2019)
European Large-Scale Pilots Programme, Lisbon (27/28 Feb 2019)
TU Delft Thing-Centered Design Lunch Lecture Series (19 Feb 2019)
ThingsCon Conference Rotterdam (6-7 December 2018): Speaker & Co-Chair
2018
2017
2016
2015
2014
IXDS Pre-Work Talk, "Where's the IoT & Wearables scene headed? Slides & video. (Berlin, 9 Dec 2014)
ThingsCon Amsterdam. Opening the conference in my role as co-founder if ThingsCon. (Amsterdam, 7 Nov 2014)
At the V&A, I co-hosted (as part of the Connected team), a workshop on paper prototyping wearable technologies as part of the Friday Late series. (Blog post.) (London, 25 July 2014)
FooCamp (Sebastopol, 20-22 June 2014)
At Samurai Startup Island, I spoke about the future of the IoT business, ThingsCon and the potential of a Japan-Germany skill exchange for IoT people as part of the Berlin @ Tokyo Night. (Tokyo, 02 June 2014)
At the Recruit Technology Advanced Technology Lab's Berlin Innovation Meetup in Tokyo I spoke about the future of the IoT business, ThingsCon and the potential of a Japan-Germany skill exchange for IoT people. (Tokyo, 29 May 2014)
At O'Reilly Solid, a new O'Reilly conference about the convergence of hardware and software, I gave a talk exploring one questions: What Can Internet of Things Entrepreneurs and the Mittelstand Learn from Each Other? (My slides.)(San Francisco, 23 May 2014)
At PETS Global Forum, an annual event for the global pet industry and trade, I spoke about the opportunities and challenges that new technologies like 3D printing present to the pets toys, accessories & food industry (Amsterdam, 23 January 2014)
2013
2012
At Charité and Stiftung Brandenburger Tor, Berlin, I joined a panel about health, technology and health data called Facebook & Co, die Gesundheitsbroker von morgen? (Berlin, Nov 20, 2012)
At the OpenIOT Assembly, London, I ran a session on cities (London, June 16 2012)
At Foo Camp 2012, I ran a session called The Event Organizer Self Help Group (Sebastopol, 9 June 2012)
2011
2010
2009
2008