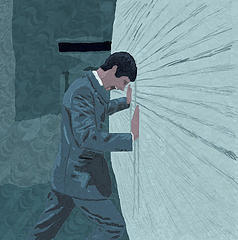 I may have mentioned a few times before that I've been having some trouble with my Sony Vaio's battery. No, strike that out: My Sony Vaio's battery is dead, basically. I've bought it hardly a year ago and the battery life is down to about 10 minutes.
Sure, laptop batteries don't last forever, but 10 minutes? Oh please, that's a joke.
But hey, no problem, I bought the laptop at Sony Style Store Berlin and boy, do they have good service. They do, right? They sure aren't like the infamous Dell Hell of the olden times? (Dell has changed a lot since, from what I hear.)
But as a Google search will confirm you, Sony Service Sucks. Sony Style Store Service Sucks even more. (Google would disagree here by pure numbers of hits, but it rhymes kind of nicely, doesn't it?)
Mind you, I love my laptop. As long as it works. But at the same time, I've not gotten any positive response from Sony customer service.
It's not just the fact that the batteries Sony used in this model (Vaio VGN-FE21S) seem to be of pretty poor quality. It's rather that Sony's customer service hasn't been helpful at all: It's crap.
Out of four (five?) times I've tried to contact them trough their store's own contact page, I've got a single response – which was a hint to contact the Sony Vaio Support, thank you very much. Needless to say, nothing happened.
So I called the Sony Style Store again. And got a very friendly person on the phone, who told me in a very nice, but determined way that she could do nothing for me, at least not in terms of batteries, replacements, hints, service, or anything remotely connected. Instead, she offered, I might come over to the store anyway, so "we can check the battery". "To do what," I asked, "the battery is pretty much dead. Is there anything you could do about it?" But what they would do with my battery she couldn't tell me. Well, thanks then, but no thanks.
But today I happened to be in the vicinity anyway, so I decided to drop by and see someone at the store. After telling the (otherwise very friendly) service staff about my battery problems, he said it happens. Laptop batteries don't last long. "Not even a year?" I asked. "Well, it depends on how you use them, of course", he managed. "But if you're unlucky, well, that's it." Or something. So I mentioned the emails ("Spamfilter?" he suggested), the phone call ("Well, you can always drop by the store"), the different service numbers ("well…"). I also suggested that this whole story might not be the very best way to deal with customer requests.
"So what about the battery?", I inquired again. If it had died within the first three months, Sony might have taken it back and replaced. (Wow.) Even during the first six months, I might have had a chance, or so I was told. "So Sony sells batteries which can't be trusted to last longer than six months?", I asked somewhat more annoyed than before. "It depends on how you use them", he replied. And seriously suggested to always take them out.
(Of course that would help the battery's life time, no doubt about it, but the point isn't that the product lasts longer if you don't use it, or is it?)
To the service staff's defense: He did offer me a 10 per cent discount on a new battery which "will last longer". (Regular price is 200 Euros or 275 Dollars in Germany, compared to 199 Dollars in the U.S.) But for some reason this didn't entirely convince me. Anyway, how should I know it's true? If the battery dies again after 7 months, I'd have to get the next one? Oh come on, you must be kidding. Give me one reason why I should believe it.
What kind of customer service is it to just shrug off complaints or not to even answer requests in the first place? Aren't you listening to your folks out here, Sony? How do you think could I ever again recommend a Sony Vaio notebook to anyone who asks? But that probably doesn't bother you, does it?
(What I find really funny is that I'm registered as a journalist in Sony's customer relations database since I was working as an editor at the time I bought it. That doesn't seem to make a difference to Sony, though. Which is kind of fair, I'd say: Why treat journalists or bloggers differently? Just treat them just as crappy as your average customer.)
So anyway, enough of the bashing. What I'd like to know from you guys: What kind of experiences have you made with Sony Customer Service?