Until 2014, I had never set foot in Finland. Since then it's become a constant companion in my life.
This first visit was during a summer roadtrip. M and I decided to fly to Stockholm and drive north through Sweden, into the Arctic Circle and through Lapland, and then back south in Finland all the way to Helsinki.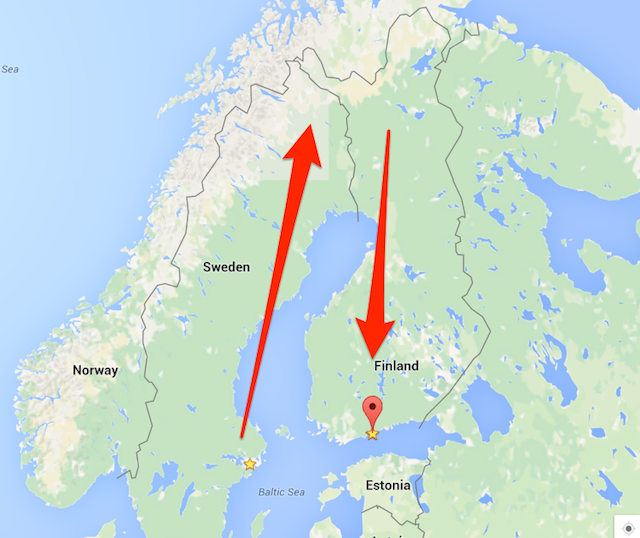 Finland isn't part of Scandinavia but of the Nordic countries. This is, roughly, the roadtrip we undertook in 2014. There was a lot of driving involved.
It was an epic road trip, a couple of weeks of driving, cycling, hiking. There was at least one whole day hike during which we encountered exactly one family and not another person besides: In the Arctic Circle you can find serious tranquility and isolation. At the same time, we saw reindeers. A lot of reindeers.
Once we were back south in Helsinki, of course, we were right back in the bustle of a modern city with tons going on despite it being rather mid-sized (some 600K population), and an especially lively food, coffee & craft beer scene.
Just after this trip, good friend Sami kindly invited me to join him as co-chair for a conference (Interaction16), so from then on out I had the good fortune to get to know a great group of Fins and expats in Finland during lots of calls and visits, and of course most recently during the conference itself.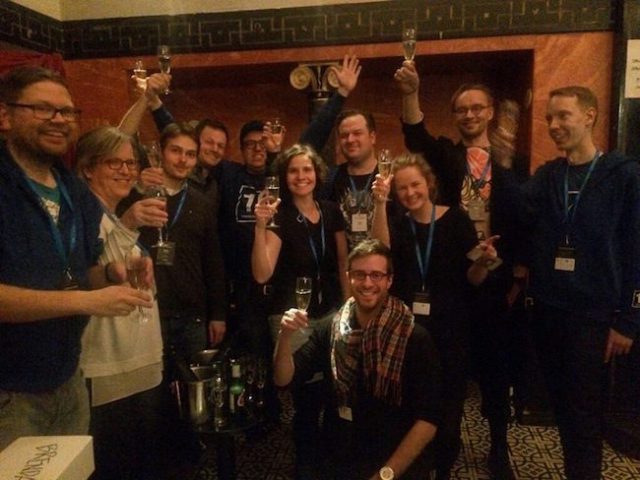 The Interaction16 team. What a fantastic group of people. As a side note, I'd love to reference this pic but honestly can't figure out anymore who took it, or on whose phone.
There's something that's always struck me as slightly different in Helsinki, or maybe unexpected is the better word. All too easily Finland gets tossed in with the Scandinavian countries and all associations that go with it, like cute and gorgeous traditional northern European medieval-ish city layouts featuring palaces and parks and the works.
But Finland isn't really Scandinavia. (It's part of the Nordics instead. Confused? Here's a great short video primer.) It also never had a monarchy and is a relatively young country if you count from their independence, so no palaces. It's also very far east with close historic ties to Russia (relationship status: it's complicated), and there's a strong lingering flavor of distinctly old-school socialist architecture on display throughout Helsinki.
So we've established that Helsinki doesn't look like Stockholm or Copenhagen. But oh boy do Helsinkians serve good craft beer and burgers.
In related news, I encountered a mystery dish apparently called Försmack Vorsmack (thanks for the correction, Ville!), which supposedly is a traditional local dish based on lots of different types of meat, potatoes, and heavy use of a blender. But I couldn't confirm this 100%.

Vorsmack. You're supposed to mix it all up, but let's stick to the photo of the dish pre-mixing, because reasons.
What's more, everything in Helsinki just works. Let me give you an example: Airport shuttle train. Two years ago during our first visit, there was none. Now there is one. It was planned and completed on time and (I'd assume) on budget, even though the station under the airport is cut/blown out of solid rock. It's affordable: €5.50 for a single ride into town, which is about half-way between an espresso and a pint of beer. It's reasonably fast, with about 30-40 minutes from the airport to Helsinki main station smack in the middle of the city. What's more, it's impossible to get lost: The moment you leave the plane, signage and floor markers guide you to the platform smoothly, you pick up a ticket along the way, and once you get to the station all the trains go to downtown Helsinki – as far as I can tell it's impossible to get on the wrong train.

Helsinki Airport shuttle train. Cheap, fast, easy. As it should be.
You might think that's unremarkable; for me it's anything but. After all, please consider I live in Berlin, a city that has three airports: Tegel (TXL), which works well despite running well beyond its passenger limit, but doesn't have any type of rail connection. The forever-under-construction international airport BER which seems to have a decent train connection but isn't operational at all yet (and won't be for at least another couple of years as it's years behind schedule). And Schönefeld (SXF), which is a shitty airport with an even shittier train connection. (For completeness' sake let's also mention the former airport Tempelhof, which now is a giant inner-city park, smack in the city, with great subway connections.)
Berlin's various airports. A story of facepalms. Except Tempelhofer Feld on the site of former Tempelhof Airport, which is great.
So go stay in Kallio for a nice lively city experience, or if you prefer a more formal setting I'd recommend the Radisson Blu Plaza. As location goes it doesn't get more central than that, and the hotel will always have a spot close to my heart: When one night I entered just before midnight to check in after a long day of work and a dinner with the team, the lobby was empty except for an older night concierge. After establishing that I wasn't Finnish, he kindly introduced me to the Finnish tradition of the morning sauna (open at 7:30am): A round of sauna just before breakfast. It's supposed to energize and clean the body, and most certainly is the best way to start the day.
You'll find plenty of excellent coffee shops (Good Life is an all-time favorite of mine), more craft beer than you can drink, and some damn fine Nordic cuisine.
If you have a chance, any chance at all, to visit Helsinki, don't think twice about it: Just go!