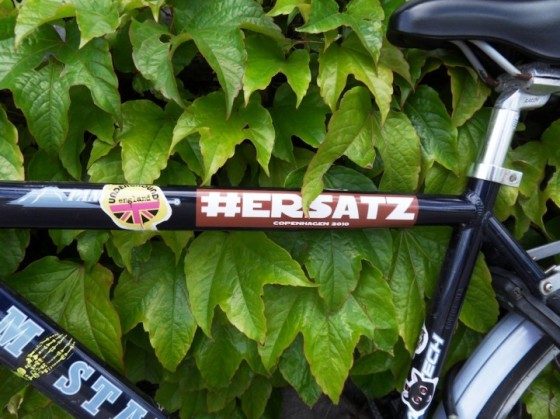 So, no Reboot conference this year. However, a small team stepped up to organize Ersatz Conference for those who crave a shot of Copenhagen this time of the year. (Guilty as charged.) So Igor and I headed over to beautiful CPH and spent a few days there and took a short break from day-to-day work. Ersatz was just the excuse we had been looking for.
Just a few notes about the trip.
First of all: Thanks, thanks and thanks to Claus Dahl for spearheading the efforts to have Ersatz. Thanks also to the whole crew at Ersatz for switching to English during the conference to allow Igor and me to participate. (Along with Gernot Poetsch, we were the only non-locals.) Thanks to all participants for sharing their stories. Thanks to Steffen Christensen, Thomas Mygdal and Mark Jensen for giving us the tour of the new 23 offices and for Mark's guided tour through the city – great fun!
The conference was an intimate, personal affair. Great stuff actually: Over BBQ and brunch there was plenty of time to share stories and insights, in workshops we could go more formal where needed. Igor and I gave a variation of the talk "Playful Cities" that Igor and Johannes had given before. And found out that quite a number of the projects we showed in the talk are already more or less implemented in Denmark, at least to some degree. I joked that Denmark might be living in the future already and nobody had noticed; in hindsight, I'm wondering if there's more truth to it than I thought at the moment.
But Copenhagen has more to offer than conferences, and with a few days on our hands we went about finding the best third wave coffee in town. And boy, did we find good coffee. There are two places I'd like to highlight:
First, Ricco's. Ricco's is a mini chain, kind of a four-store franchise, and it's just like an urban coffee shop should be: nice, relaxed atmosphere, intense and interested baristas who care to help you find the best you might want to have, and, well, delicious coffee. Great, absolutely fresh snacks, too. It's a pleasure. I was only at one of the shops, but I'm sure they're all great.
Second, Kaffe & Vinyl. This is an entirely different atmosphere, but just as great. In its tiny-ness it might even be more social. Kaffe & Vinyl, like the name indicates, is a coffee shop & vinyl store. You get to listen to and buy a small, but on first glance very decent selection of records – which are also the source of the music played in store, of course – and an even smaller but equally good selection of caffeinated products. The shop is clearly a labor of love, and it shows. Folks cue up and don't mind waiting a few minutes to get a cuppa and then sit mostly outside in the sun as there is space for no more than a few inside at any time. While I was there I ended up chatting with a few folks, one of them claiming that besides Bonanza Coffee Heroes (my favorite Berlin coffee shop) and Coffee Collective, Kaffe & Vinyl might be the best coffee shop in Europe. Quite a claim, and there are too many coffee shops in Europe I haven't checked out (yet), but it's certainly not crazy to assume that there's a spot at the top with Kaffe & Vinyl's name on it. I didn't make it to Coffee Collective this time, but hey, there's always a next Reboot and thus a chance to check them out.
Anyway, long story short: Next time your in Copenhagen, make sure to grab a cup at each of those!
Image: Ersatz Bike by Sten Jauer