Out of Alexandra Deschamps-Sonsino's lab comes Constant Setting, a beautiful Flickr-based mashup. Constant Setting shows us photos (released under Creative Commons, tagged on Flickr with sunset and a location), from those places where the sun is setting right now. So what happens is, you get to see a never-ending flow of sunset photos from all over the world, following the sun setting around the globe. Beautiful – make sure to switch to full screen!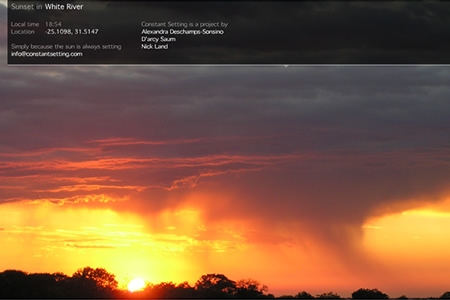 Image: Constant Setting, courtesy Alexandra Deschamps-Sonsino
Constant Setting was created by Alexandra D.S., D'Arcy Saum and Nick Chip. Read more on Alexandra's blog, and don't forget to watch the sunset.