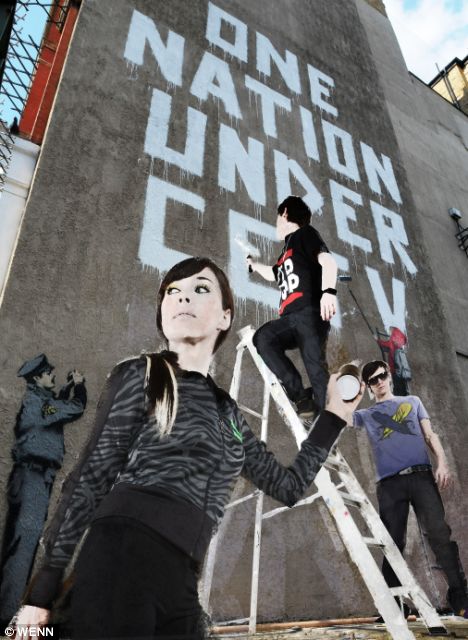 A new Banksy mural 'One Nation Under CCTV' painted next to a CCTV camera at a Post Office yard in the West End. (Image: Dailymail.co.uk)
Half the world, it seems, has been chasing the British graffiti artist Banksy: Police for his vandalism, art collectors for his works, sprayers for his style, media for the scoop. So far, his cover hasn't been blown. Now Daily Mail has a first interview, or rather: description of a meeting with the artist.
To post this here may seem slightly off-topic, and I guess it is. I posted it anyways for two reasons:
First, I think it is indeed quite remarkable that it's even possible to keep your identity as secret as Banksy does, while still producing art in very public spaces, like the one seen above, and the one below. (One of his recurring topics is surveillance of the public space, after all, and what you could call sousveillance, i.e. inverse surveillance.) In our age of transparency and data sharing, of public surveillance and CCTV, this seems like quite an achievement.
Second, it's a hell of a good graffiti. Not only does it look awesome, the way it plays with different levels of reality, surveillance and meaning is just mindblowing.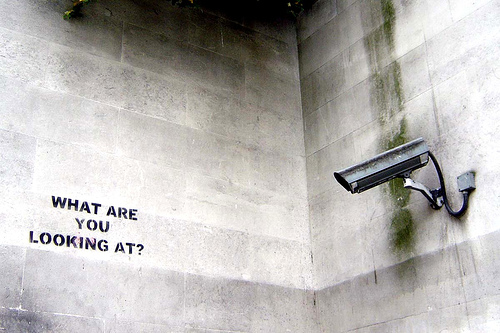 Banksy: What are you looking at? (Photo by nolifebeforecoffee)
Some more Banksy art? Check out what Flickr has to offer, sorted by interestingness.