A word of warning: This is just what the headline says – first and foremost a little rant. A rant about what Second Life is, and what it could be.
Thomas Praus, Max Senges and I have been chatting about Second Life quite often lately. So we decided to each take a stand, and give a judgement, on what we think is the deal with Second Life (SL). So here's my part of the deal – you can read Max's here. (I'll link to Thomas' once he posted his.)
Second Life (as it is: bad)*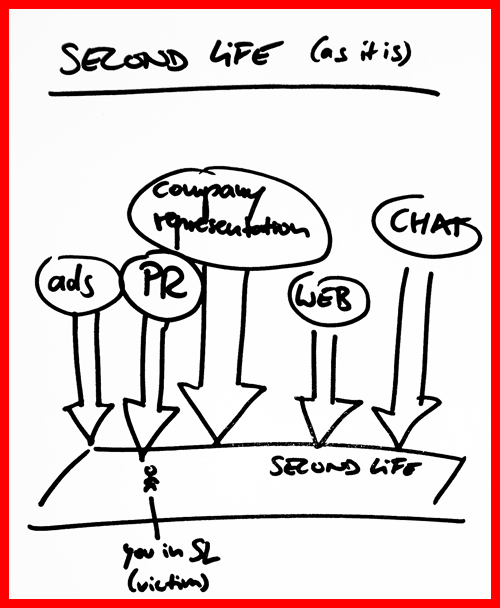 * I took a clue from Kathy Sierra and tried to provide a kind of visual summary of my ideas here. However, I'm not as avid a painter as she is. Please bear with me.
SL as just another distribution channel for the same old stuff
"just dump it there, users will come"
users as victims, isolated, passive
"we need to be the first there to make the quick bug"
Second Life (as it could be: great)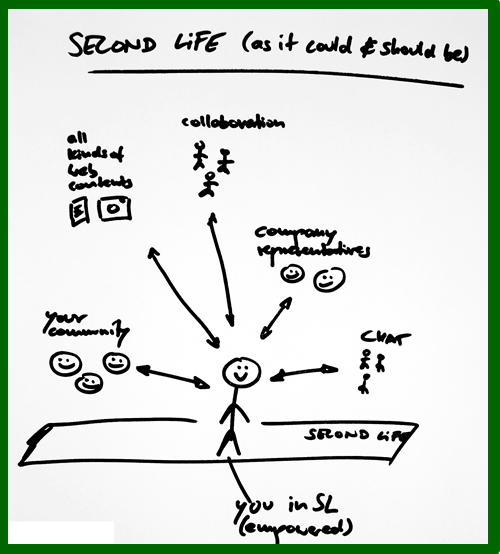 feels human
Second Life as a platform for collaboration, enabling interaction
Second Life as a user interface to access and control all kinds of stuff
"let's build it together from scratch"
community-driven
enabling & empowering users
And here's my actual rant:
Hype or bashing: The way Second Life is discussed in the media reminds me a lot of the way the web was discussed in the early and mid-90s: Either bashing or hyping, but hardly any reflexive thinking in between. It's all black or white, and it's along very similar dimensions, too: economic opportunities; democratization & participation; marketing; privacy or lack thereof; or globalization. Either, Second Life is treated as a revolutionary, futuristic Utopia that will help solve the world's problems, or at least provide massive economic growth. Or alternatively, critics claim that Second Life will bring the demise of culture as we know it – with arguments ranging from fostering escapism or child pornography to depriving us of our last bits of privacy.
Most journalists don't really seem to know what they're writing about, or maybe they just assume their readers won't know, so they have to boil it down (and go way too far). Sadly, too often these articles come across as just an excuse to put virtual boobs on the cover, even if the pictures don't even half match the content of the article.
Second Life as a platform: The chances of Second Life are in its being just a platform onto which basically everything can be projected: All kinds of content (in-game content as well as all kinds of audio, video, text, code), all kinds of social interaction (collaboration, socializing, meetings, chats), and plenty of things we haven't even thought of yet – it can all be projected onto the white screen that is Second Life. That's where its great potential is: To provide a visual interface to other kind of data. (Where technical standards (or lack thereof) prohibit this, Second Life has to change or it will be simply replaced by the next, more open platform.)
In his mind-boggling book The Wealth of Networks, Harvard Law professor Yochai Benkler says:
Like other massively multiplayer online games, Second Life is a persistent collaboration platform of its users. Unlike other games, however, Second Life offers only tools, with no story line, stock objects, or any cultural or meaning-oriented meaning whatsoever. Its users have created 99 percent of the objects in the game environment. (…) Second Life sees the users as active makers of the entertainment environment that they occupy, and seeks to provide them with the tools they need to be so. The two models assume fundamentally different conceptions of play. whereas in front of the television, the consumer is a passive receptacle, limited to selecting which finished good he or she will consume from a relatively narrow range of options, in the world of Second Life, the individual is treated as a fundamentally active, creative human being, capable of building his or her own fantasies, alone and in affiliation with others.
Performance: There are so many articles about Second Life that you'd think that half the population is active in Second Life – which clearly isn't the case. Despite about 4 million registered users, hardly ever are there more than 30,000 to 35.000 users logged in at the same time. Word on the web has it that this isn't so much due to lack of interest, though, but due to technical issues: Linden Lab's servers, it is whispered, can't take more load than those 35.000 users produce.
Linden Lab has to find a way to improve performance, and in the order of several magnitudes. Even with slow growth, SL can't cope with the traffic and rendering, and with the exponential growth to be expected, Second Life will just implode. Restricting access isn't an option for the obvious reason that it'd mean the end of Second Life. Same goes for making it a premium, paid service. The only way I can see that would work here is to open-source it.
Open-sourcing SL would mean to lose control over the platform. While this is a scary thought for Linden Lab, we've seen it work before on the web, many times. Mostly, it's turned out great.
Ownership: Issues of ownership must be solved: How can users put in their stuff, cash, code, items, and how can they safely get them back out? (See my post here, or even better: Onder's post for more thoughts on that.) MAKE's Owner's Manifesto goes here as well: If you can't open it, you don't own it.
Governance: The rules of engagement within Second Life are more than instable: Just relying on Linden Lab's terms of service, which "Linden Lab may amend this Agreement at any time in its sole discretion", will ultimately deter users from real engagement, and certainly from significant investments. Same goes for the Community Standards, which are a nice set of rules: It's a non-enforceable set of rules, the infamous toothless tiger that political science literature likes so much to refer to. So who sets, and who enforces any kind of rules? What kind of mechanisms are in place to resolve conflicts?
As long as Second Life positions itself as a game, there's no need to find a decent form of governance. However, if it tries to be a platform for massive interaction on a social, economic and creative/productive level, governance becomes key. So far, there's no real development to be seen. About a year ago, in February 2006, Linden Lab's marketing director Catherine Smith told me that "our goal is to give our Residents the tools they need to handle abuse themselves." While self-governance is fine as an ideal, in this case it seems more like an excuse not to get involved. Not much seems to have changed, although a vague warning of "Suspension and eventually Banishment" are mentioned by now in the community guidelines, along with "In-World Representatives, called Liaisons, [who] may occasionally address disciplinary problems with a temporary removal from Second Life." This still has a long way to go.
So far, those are the main issues I have with Second Life. While there is a huge potential in this virtual world, it is just that: A potential that hasn't been realized. Without some massive changes, it may never be – other virtual environments will emerge quickly. And they'll give Linden Lab a tough run for their money.
Link to Max's post.
Update: Onder just told me in the comment section that he simultaneously posted about, quote: "The demise of Second Life". Thanks for the hint, Onder!